How to Survive in the New Era of Digital Marketing.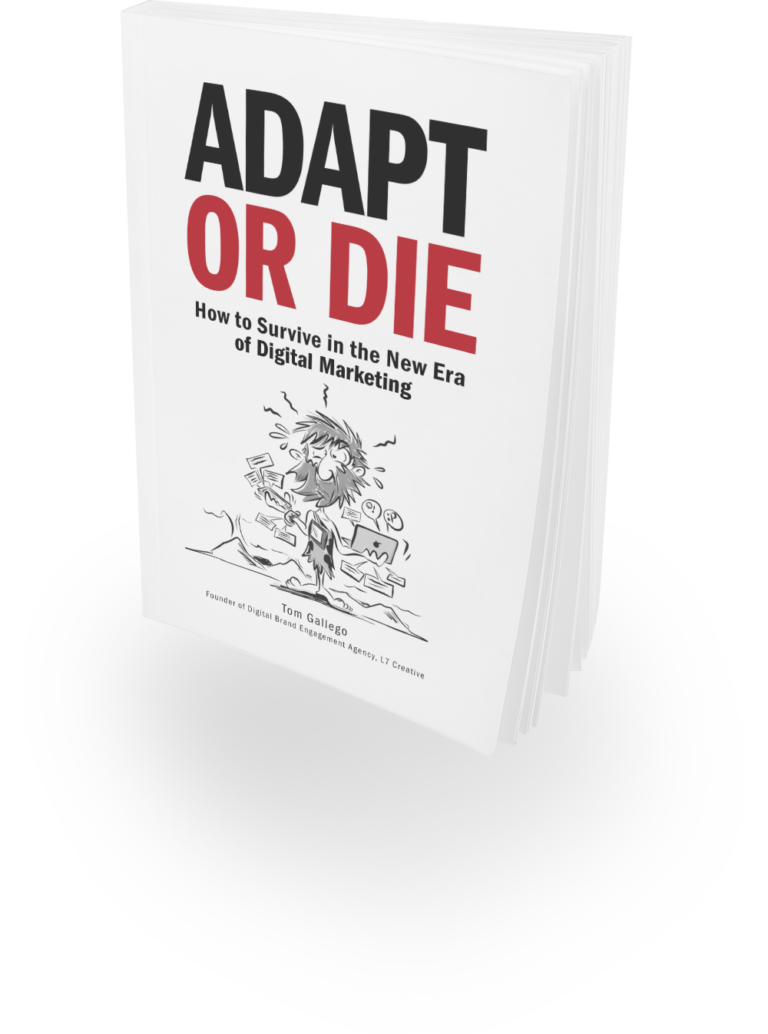 Adapt or Die Hits Markets
A Must Read for the Modern Marketer!
L7 Creative is thrilled to announce the release of CEO, Tom Gallego's game-changing book, Adapt or Die: How to Survive in the New Era of Digital Marketing. In response to the new era of hyper-connected marketing, L7 Creative developed the strategy of Digital Brand Engagement. This revolutionary process has fortified the national acclaim Gallego's agency has earned. Adapt or Die: How to Survive in the New Era of Digital Marketing defines the seven principles of Digital Brand Engagement that are essential to every modern marketer.
Get Your Free Digital Copy sent to your inbox
Available for a limited time!
To help you jumpstart your Digital Brand Engagement journey, below is a downloadable infographic that breaks down the seven critical principles needed to achieve digital success.

Here's What People Are Saying About "Adapt or Die"
"Adapt or Die is a must read for both the layman and the professional marketer – written by the best brand strategist in the business. If you read one book on digital transformation, it should be this one."
– Patrick Mahaffey, VP/Head of Growth, True North
"Reading Adapt or Die should be the prerequisite before creating a digital marketing strategy. It provides the tools a marketer needs to exceed their goals and differentiate themselves in the market."
– Evan Stein, Chief Marketing Officer, iHome
About the author
Tom Gallego, CCO & CEO, oversees creative and account management strategy for award winning agency, L7 Creative. He also sits on the Forbes Agency Council, an invitation-only organization for senior-level executives where he contributes expert opinion for readers of Forbes Magazine. He has authored Adapt or Die: How to Survive in the New Era of Digital Marketing to give marketers the necessary tools to compete in today's hyperconnected and extremely competitive marketplace.
More About Adapt or Die
Adapt or Die is a survival guide for the modern marketer. If you run marketing and branding for a service or product-based company, this will equip you with the adaptation tools to run faster than your competition and succeed in the new era of digital brand engagement. It's all here in a simple and informative book, that lays out seven easy-to-follow principles that will guarantee your success in today's product and service parodied marketplace.
Also Available in Paperback and for Kindle on Amazon