World of Haiku
L7 Creative developed a launch strategy for a new gamified cybersecurity training platform that debuted on the top of the charts.
Challenge
The World of Haiku was a brand new RPG that teaches real-world cybersecurity skills set to hit Steam in Q3 2022. When the team came to L7 Creative, they had 500 total followers on social media, a completely un-engaged, silent Discord server and ambitious goals to increase organic social traffic and "wishlist" adds to their Steam page leading up to the launch of their game.
Solution
To generate excitement and have a successful launch for the game, our team implemented a highly targeted paid media campaigns, produced original content and sourced influencers for social media, and built out a new website for the World of Haiku. We focused our messaging on how playing the World of Haiku teaches real cybersecurity skills that can lead to a a real-life career. By playing the game, you can level up your life.
Results
Impressive social network growth, a highly active Discord community of over 1000 members, long-term proven influencer partnerships for future releases, hundreds of social proof organic testimonials and reviews and an incredibly successful game launch, resulting in impressive e-commerce sales on Steam.
Increase in Social Audience
for Debut on Steam Gaming
Educating cybersecurity enthusiasts about a revolutionary new training platform
World of Haiku started off with a quick landing page to show off the the game's artwork and an optin form. Not long after, the site was redesigned into a fully developed homepage with video, scroll animations and graphics. The content was tailored to educate visitors about the real-world skills learned through playing the game and how it can lead to an exciting new career in cybersecurity.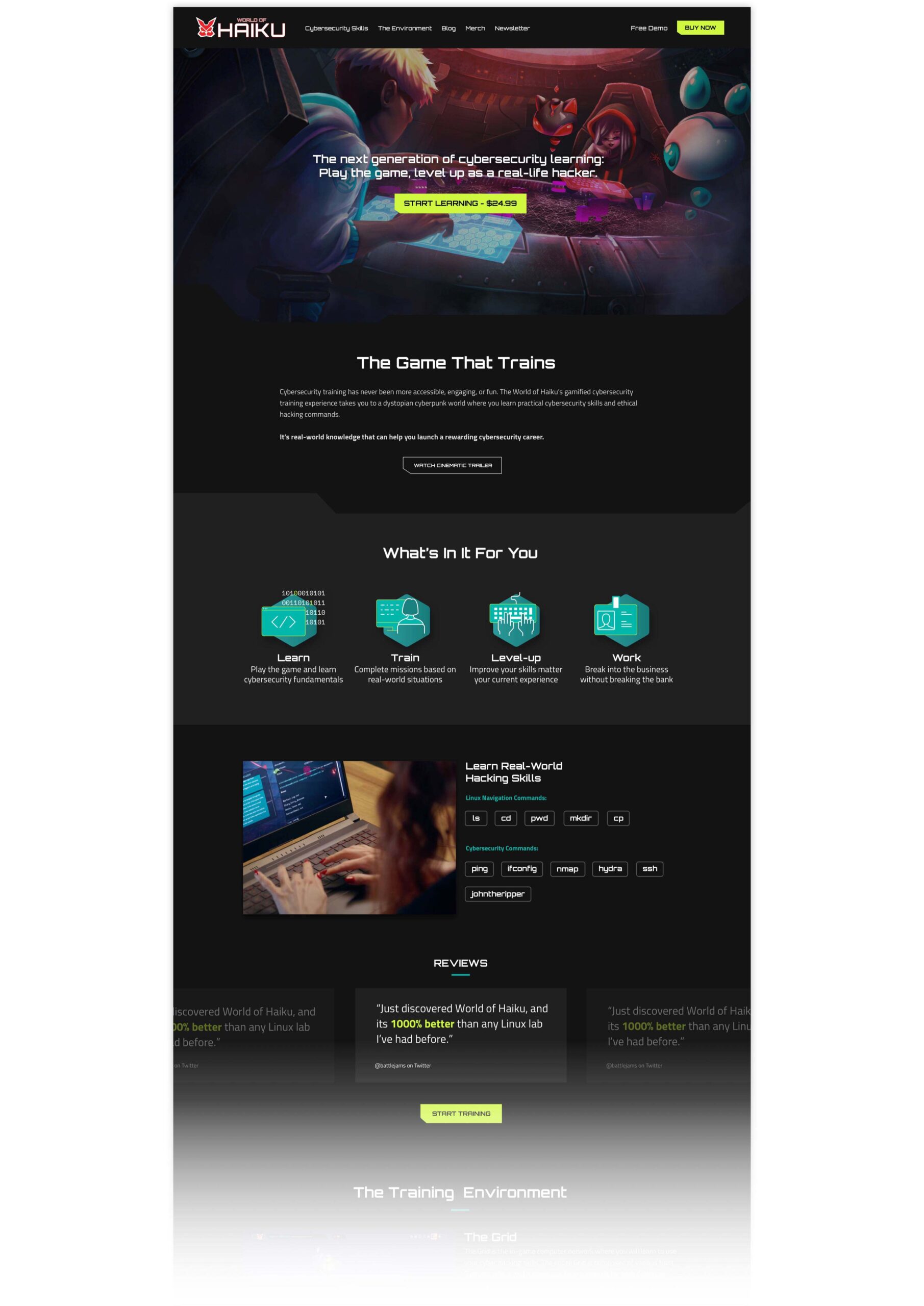 Building a Loyal Community of Grid Runners
Our social team implemented a highly channel-specific social strategy with content built to speak to a diverse audience of both gamers and cybersecurity professionals. We created unique content, even without the product existing yet, for YouTube, Facebook, Instagram, TiKTok, Pinterest, Twitter and Linkedin., We partnered with incredibly niche influencers on Twitch, Youtube and Linkedin and implemented Discord giveaways, brand partnerships and social listening strategies.