To Podcast or Not to Podcast?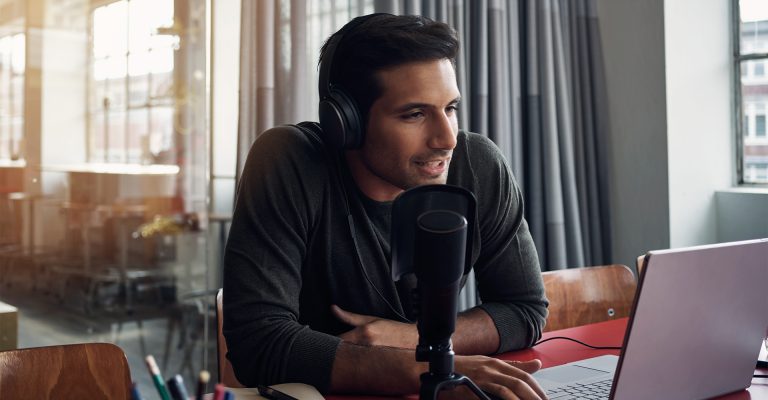 The Benefits of This Medium For Small Business Owners
Tap, tap, tap. Is this thing on?
Come on, podcasting can't be that easy, is it? The truth is, it kind of is. If you look at people like Dax Shepard and Anna Faris, you might think that it's just about star power. Or if you take the cases of Serial and Dirty John, it's all about having a salacious story. The reality is, like anything, you get out of it what you put into it. But how do you know if your small to medium-sized business needs a podcast? We say almost uncategorically that you do, and we'll tell you why.
Competition? What Competition?
Even though podcasts are huge right now (51 percent of the US population has listened to a podcast), there is still a very good chance your competition doesn't have one … yet. With the rise of those listening on mobile devices, in cars, and using home devices like Google Home and Alexa, you'll have a serious leg up on the other guys.
SEOooooo, Yes
You'll reap SEO benefits without even trying. As author of five best-selling marketing books Seth Greene says via this Forbes article, "iTunes is a Page Rank One website, and every episode usually links back to both the show's website and the guest's website." And this is on top of the fact that you could very well be ranked in the app store itself.
It's Better Than a Trust Fall
Just like blogging is a means to gaining the trust of your customers, podcasting establishes that connection. You're essentially giving away free information in a (hopefully!) entertaining way, so podcasting is just one more way you can establish yourself as a foremost authority in your niche.
It's Love and Loyalty in the Age of Netflix
Never before have we lived in a time in which people are so faithful to their shows. People binge watch and Netflix 'n' Chill and then turn to social media to spill their hearts about what they've seen and heard. Podcasters are turning out to be among the most loyal of all followers, many of them boasting about never missing an episode of their favorite podcast. If you're churning out useful and entertaining content on a regular basis, chances are you'll be rewarded with a loyal following. We know from watching social media trends that when users get accustomed to seeing content on a certain day, they will make sure to be there. Not only that, but 80 percent of podcasters will listen to all or at least most of an episode. In this day and age of instant gratification and eternal busyness, that's impressive.
It's All About the Benjamins, Baby
Or, in this case, the lack of Benjamins, really. Podcasts are (or at least can be) insanely inexpensive. Of course, the big Hollywood types are highly produced and, as such, cost a good amount. But for your business podcast, all you really need is a portable microphone and money for sound editing. Uploading it to iTunes and/or Google Play is also free. Just think about all the donuts you can buy your employees with that money.
…
We'll give it to you straight. Podcasting does take time and consistency to get it right, obtain that following, and maintain listenership. But when you look at all these benefits, you might be asking yourself: What am I waiting for? We don't know. Go forth and podcast already.
By: Marnie Brodersen