7 Benefits of SMS Marketing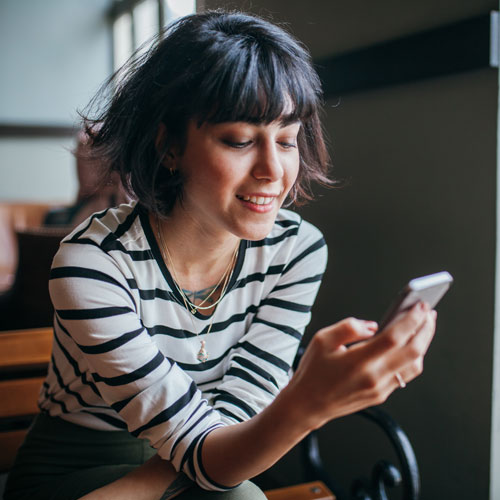 And How to Remain SMS Compliant When Text Message Marketing
I took a photo of my parents who were visiting me in California on their phones - side by side - this weekend, and was going to post it to Facebook saying, "See, it's not just Millennials." I ultimately let them off the hook, but there's no denying that the vast majority of us are glued to our phones. Many people even admit that checking their mobile phones is the first thing they do in the morning, for better or worse. Memes about texting and not calling abound because what are we - barbarians?!
Not taking advantage of this devotion to texting when it comes to marketing is a mistake of epic proportions. In the past, some agencies shunned this for fear of the heavy compliance restrictions and decided to err on the side of caution. It's not that difficult to remain compliant anymore, and the benefits of SMS Marketing far outweigh any risk associated with that. We've rounded up these benefits of text message marketing and shared them with you below, along with tips on remaining SMS compliant.
Advantages of SMS Marketing:
1. Instant Gratification Due to Immediate SMS Delivery
Considering it's seven seconds from pushing "send" to the client or potential client receiving the message, SMS Marketing could only be more effective if we yelled, "Buy this!" in your ear...which, let's face it, is probably a bit off-putting. With SMS Marketing, your campaign can literally have hundreds of clicks within minutes...and, yes, we are using "literally" correctly in this instance.
2. High, Measurable SMS Marketing Text Conversions
Text marketing yields an incredibly high rate of subscriber action compared to other marketing campaigns. Plus, plenty of companies offer analytics that let you easily track who opened your messages, who ignored the messages, and which links were clicked.
3. SMS Marketing Allows for a Personal Albeit Brief Message
We already know that using words like "I" and "you" in marketing messages creates a personal touch, so when these words are coming from a popular medium like text messaging, it's that much more effective. Also, brevity is your friend. The 160-character maximum for SMS forces you to say more with less, making your main point easier for the end user to digest.
4. High Open and Engagement Rate
In some cases, text messages are automatically opened. Even when this isn't the case, SMS Marketing messages have a sky-high open rate (some sources say this is as high as 82 percent!), especially in comparison to emails, PPC, organic, or social. As long as you have the written opt-in (more on that in just a sec), your end user will almost definitely read your message.
5. Instant Opt-In and Opt-Out
As we just mentioned and we'll go into a bit more detail about when we discuss compliance, you can only send SMS Marketing messages to those who have opted in. Thankfully, opting in or out for end users is about as easy as possible (only one step!), ensuring high satisfaction on their end. Even better, once the person has opted in, your message won't be subjected to spam or other email filters.
6. Cash in Your Coolness
Not only are you showing how current you are with your technology by enlisting SMS Marketing, but you're also going green. Both of these things will go a long way with your clients...especially the younger ones.
7. You're Hitting All the Demographics
This isn't your grandma's marketing...oh wait, yes it is. Just about everyone has a smart or at least mobile phone these days, so your marketing reach with every advertising set is essentially limitless.
How to Stay SMS Compliant
1. Users Must Opt in With Express Written Consent
Whether it's entering a phone number by form fill, signing up in person, or having a keyword sent to their number, even text messages that are simply informational still require consent. It's even more crucial to point out that allowing a user to opt in as a condition to purchase goods or services is not allowed. Failure to follow these rules will likely result in TCPA violations.
2. Adhere to These Rules When Importing Lists of Contacts
The rules mentioned above apply to all contacts. Federal law and industry regulations require manual review of each imported contact. Before importing a list, make sure every phone number has given you specific permission to send them messages.
3. CTA Requirements
A call-to-action is the message that prompts the user to opt in to your SMS campaign. It has to include the following:
SMS Campaign Purpose - This lets subscribers know they are getting by opting in, whether it's tips, promotions, reminders, or the like.
Message Frequency - You have to let the subscriber know the approximate number of messages he or she should expect to receive in a given week or month.
Message and Data Rates - Unlimited texting has become more than the exception, but you still have to let users know they may have to pay a small fee to receive text messages.
Terms and Conditions - Listed just below the CTA, this list should contain your company or program's identity, a description of the product being signed up for, customer care contact information, and very clear opt-out instructions such as "Reply STOP to unsubscribe" in bold type.
4. Remember the SHAFT Acronym
This refers to what your text messages can't include, and it stands for sex, hate, alcohol, firearms, and tobacco. If you want to send promotions including alcohol, you need to look into the specific bylaws for this, as you can sometimes circumvent these restrictions by including a gate that proves the users are 21 years or older.
5. Send a Confirmation Email
Your first text must be a compliance message confirming the user's opt-in. It should reiterate who you are, the frequency of messaging, the message and data rates reminder from the CTA, and how the user can opt out.
…
The process of remaining SMS compliant while engaging in a text message marketing campaign might sound overwhelming, but the process can be automated. Plus, you don't want to miss out on reaching my mom and dad, right? Reach out to us to find out how we can launch and optimize a stellar SMS Marketing campaign for you.
By: Marnie Sloan