Torrey Pines Scientific
Purchasers of precision equipment expect a carefully crafted user-experience.
Challenge
Torrey Pines Scientific has a rich history of designing and manufacturing precise scientific equipment used in top labs around the world. Unfortunately, their website experience wasn't up to par with the equipment they make. It was time for a new eCommerce website with a platform that made it easy for users to research and select the right equipment for their lab.
Solution
We started by conducting an audit of their product line and then updated the way Torrey Pines Scientific categorizes its products. To lay the groundwork for their online store, we created a new custom WordPress theme that integrated WooCommerce to produce one cohesive system.
The Impact
In eCommerce, one measure of success is the number of orders per day/week/month. But if you've got many orders all of which have a very low dollar amount, that can be deceiving. A better way to gauge the effectiveness of your marketing and sales efforts is to assess the number of orders along with average order value (AOV).
As a result of L7 Creative's work with Torrey Pines Scientific, their number of orders has increased, but maybe more importantly, their AOV has grown by 3x. The total boost in sales soon after launch amounted to approximately a twenty-fold increase.
Increase in Goal Conversion Rate
Increase in Add to Cart Completions
Increase in Average Time on Page
A Precise User Experience
With products as complicated as scientific equipment, we needed to create an eCommerce solution that would simplify the customer journey. To do so, we simplified their product SKUs by combining similar products into variable products that allowed site visitors to select from options like product size, temperature range and more to easily find the perfect piece of equipment for their research.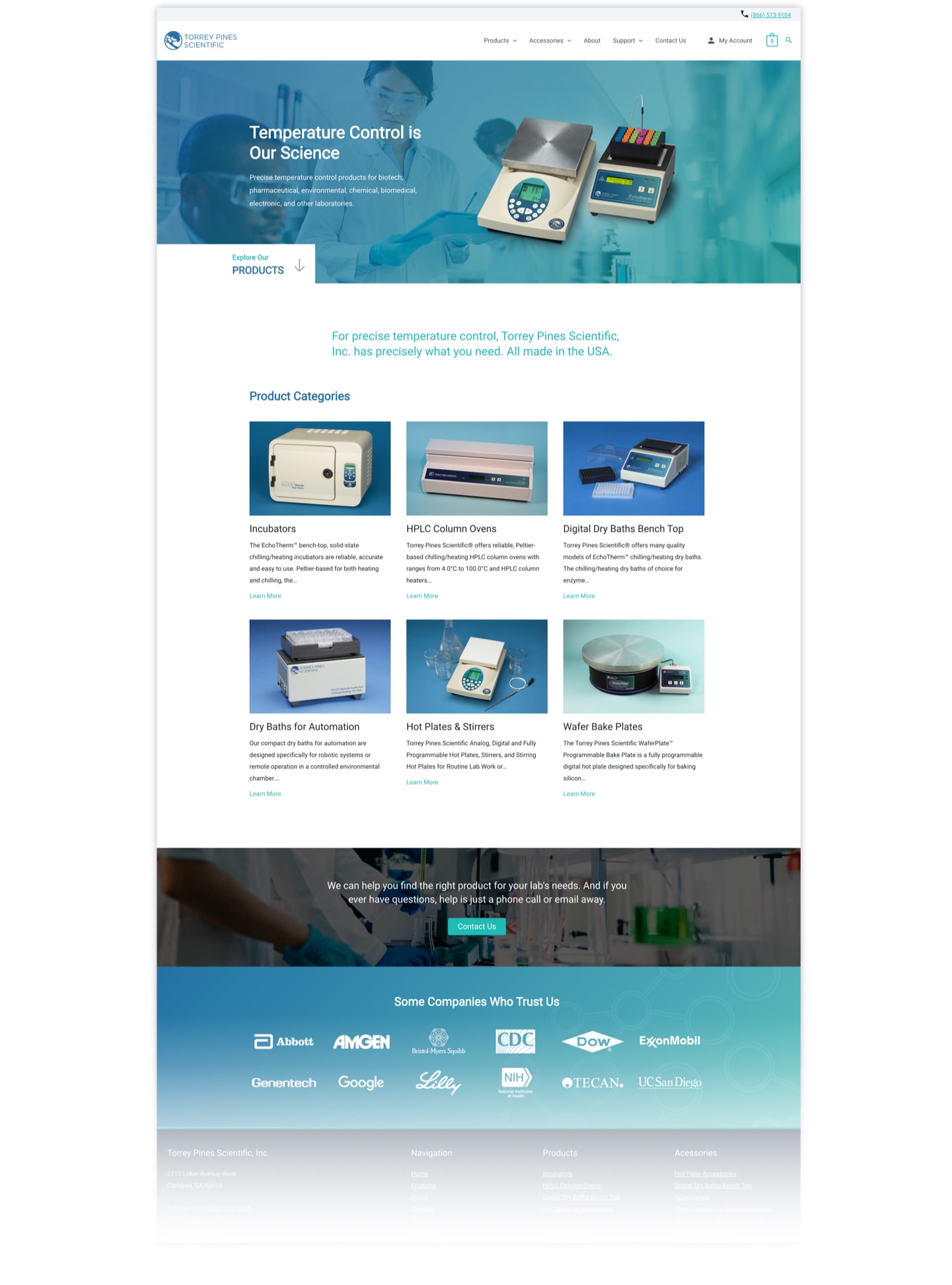 Enhancing their Frontend and Backend Solution
Not only did we improve their website design substantially, we also got them out of a risky situation with their old website, which was an unsecure, end of life, Drupal version. Their new website also made it easier for the Torrey Pines Scientific team to add and update products on the backend. They can now scale their business and products lines at their own pace in an easy-to-use Wordpress solution.