Triaj
Generating awareness and increasing adoption were critical for a new "clinical decision support system" app, so we helped Triaj create forward momentum prior to and after its release.
Challenge
An innovative health tech app was set to hit the App Store and the client needed help to generate app adoption, find beta testers and build brand awareness prior to the official launch. Achieving any of these goals before a product launch is helpful. When you succeed at all three, extraordinary synergy is produced.
Solution
L7 Creative launched an aggressive multi-channel marketing plan with a carefully concocted mix of paid social ads, organic social media brand-building strategies, PR, email drip campaigns, PPC and content marketing. This included things like a new area on the Triaj website for an interactive demo, interview videos and a monthly newsletter to attract and engage potential customers, and other important pieces like a redesign investor pitch deck.
The Impact
Any way you look at the results of this engagement—from app installs to social follower growth—it was a tremendous success for Triaj. Better yet, Triaj continues to grow. To date, we continue to manage and grow their organic social, revamp investor pitch decks, and optimize their website.
Above Conversion Goal for Beta Testers
Above Email Goal for App Installs
Above Paid Social Goal for App Installs
Building a Social Presence for a Health Tech App
As a new startup, growing their social presence was a top priority. We started by developing a comprehensive social strategy with three phases that included LinkedIn, Facebook, and Instagram. Phase one would focus on building brand awareness, explaining the Triaj mission to "Save Children's Lives" and providing background information on Triaj's founder and team. Phase two centered on industry stats and targeted posts for their specific audiences: doctors, nurses, investors, hospital admin, and first responders. Phase three would include education on the product offering and professional interview footage with the Triaj team. As a result of our efforts we were able to increase their social following across all channels by over 100%.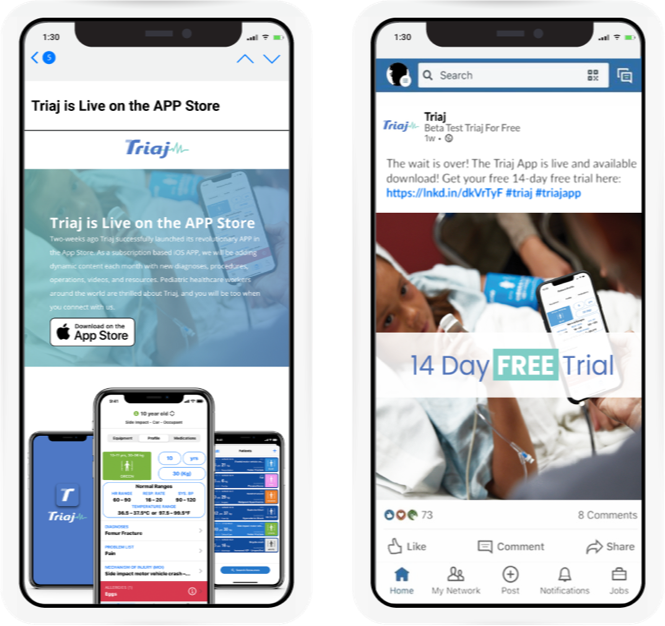 Keeping the New App Top-of-Mind
To keep up momentum, we created monthly newsletters to inform their audience of new monthly app features and company news. In addition, we ran and tested paid ads on various platforms to identify the most effective channels to generate app installs. As a result of our nimble approach, our strategy evolved to include a combination of paid social media ads and Apple Search ads.
Being a startup, it was also of critical importance that Triaj attract new investors. To  garner new investors, we opted for a more personalized approach. Using the founder as the "sender" of the message, we leveraged email marketing and LinkedIn direct messaging. The LinkedIn direct message campaign alone generated over 150 replies. 
"L7 Creative has been a game-changing partnership for us. They have been on point since inception and helped drive our go-to-market strategy. They are digital geniuses when it comes to social media campaigns, paid advertising, direct email campaigns, videos, and website development. They work fast - which allowed us to successfully launch in the app store."

Todd Eichelberger, VP Sales & Marketing
Triaj