Influencer Marketing Trends in 2023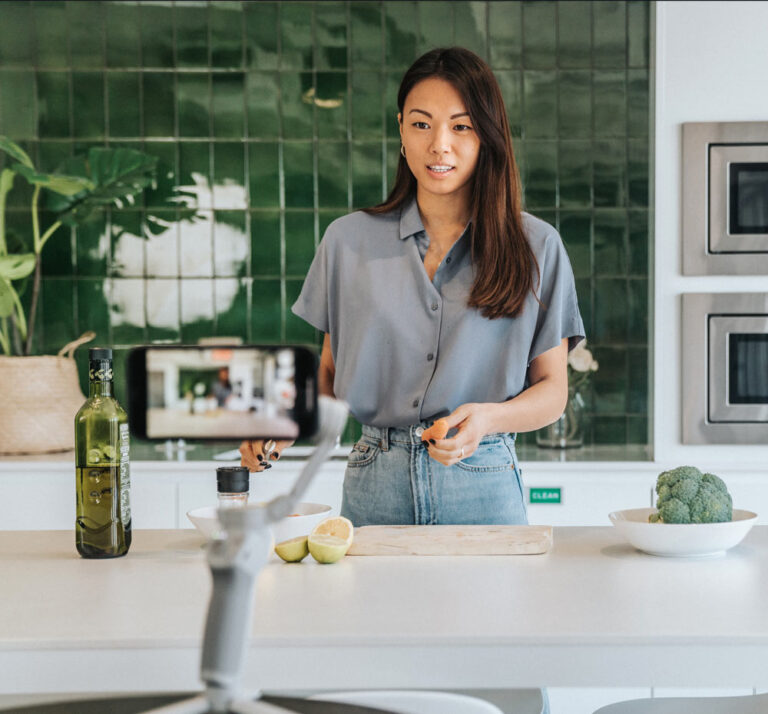 While influencer marketing has been around for a number of years, it's still one of the most important and effective ways to reach and grow your audience and increase sales. eMarketer estimates that nearly 75% of U.S. marketers from companies with over 100 employees will use influencer marketing.
New opportunities to utilize influencer marketing emerge every day, and we've put together a comprehensive guide for marketers to understand and take advantage of this space.
What Is Influencer Marketing and Why Should You Use It?
Word of mouth, social influence, and endorsements have long been some of the most effective marketing tactics for brands. Influencer marketing takes those concepts and expands them with today's social media and other online tools.
Influencers are everyday people who have gained a following on a social media platform, or another online platform such as a podcast, and can make their followers aware of your product or service. They can have an online audience of almost any size, and related to any topic imaginable. Their followers consider them an expert on whatever topic they discuss, whether that's fashion, beauty products, gaming, or anything else. Additionally, their followers trust them to only recommend products they use or believe in themselves.
By creating custom content that talks about a brand's product or service, influencers can get the word out about your brand. Modern technology removes some of the unknowns from this 'word-of-mouth' process and allows brands to collaborate with those who love to talk about their products. Whether your product or service appeals to teens or moms, or anything in between, there is an influencer out there who talks to people who want to hear about your brand.
How Influencer Marketing Can Expose Brands to New Audiences
Getting access to an influencer's audience is the biggest benefit of this type of marketing. Whether your brand is completely new to an influencer's followers, or they get to see a demo of your product, you can make a genuine connection with people who you may have never reached otherwise.
Additionally, the connection the influencer creates with your brand and their audience is much stronger than one that a brand can generally create on your own. Many people, especially Millennials and Gen Z, trust influencers more than a brand's own advertising. In fact, Shopify reports that "the value of influencer marketing lies in the fact that 61% of consumers trust influencers' recommendations—more than the 38% who trust branded (and often biased) branded social media content."
Influencer Affiliate Marketing
Influencers can also act as affiliates for sales of your brand's product or service. After exposing your brand to their followers, they can provide links to purchase on Amazon, or your own site, and even provide unique promo codes so you can track sales. In turn, they receive a small commission for sales.
This has become one of the most popular marketing tools as it relates to influencer marketing. Zippia recently reported that 53% of all Amazon sales come from affiliate marketing.
Walmart is emerging as an essential sales platform and recently launched it's creator program in an effort to capitalize on this form of marketing. The program allows creators to monetize their content through affiliate links and earn commissions on the sales they refer to your Walmart store.
The Rise of the Micro-Influencer
Not all influencers have millions of followers. Sometimes a more targeted approach can yield great results and this is where micro-influencers come in.
Micro-influencers are anyone with 10k - 100k followers and it is becoming more popular since they can have a more authentic relationship with their followers. As a result, they get better engagement with their followers, leading to a better return on investment.
While an influencer with a large following can seem attractive, since you can seemingly reach more people with a single post, micro-influencers can be a great way to reach people who are more likely to engage with the content.
Long-term Influencer-to-Brand Partnerships
Most companies work with an influencer one time, but 2023 will see more long-term partnerships to the point where the influencer feels like an unofficial face of the brand.
Extending your partnership with an influencer can add authenticity to the relationship. It also improves collaboration, leading to better content. After all, influencers are content creators. The more they learn about your brand and product, the easier it will be for them to convey genuine information to their followers.
Long-term relationships have the added benefit of reducing the time and money spent on developing your influencer campaigns, since you will already have a stable list of influencers to go to.
Which Influencer Platform Should You Use?
For years, Instagram has been the primary social media platform for influencers. The combination of visual-heavy content and its Millennial audience was the perfect storm. However, as Gen Z expands its spending power, TikTok is quickly challenging Instagram as the dominant platform.
While Instagram still commands nearly half of all influencer marketing spending, TikTok and YouTube comprise just under 20% each and Facebook is around 14%. Depending on your target audience, one or more of these platforms might make the most sense for your brand.
TikTok is growing the most, having been only 5% of influencer marketing in 2020 and now sitting at nearly 20%. After losing share for the last several years, YouTube gained more in 2022 and should continue that trend in 2023.
Don't Forget About UGC Creators
Not only does an influencer's content thrive on their own channels, but it also has a strategic place within a brand's channels or integrated into paid social ad creative. But, when negotiating usage rights, things can get a bit pricey. Cue: UGC Creators (also known as user-generated content creators).
UGC creators create the same style of content an influencer would, but without actually posting to their pages. They'll bring your products into their home, shoot "influencer-style" video content in an authentic setting, and pass the footage to the brand's creative department to utilize across various campaigns.
This allows brands to gain access to this style of video creative without having to commit to a higher-priced promotional partnership that many influencer agreements require. In fact, Facebook ads with user-generated content generate 5x greater click-through rates than those without (Salesforce). So, where you may lose the promotional benefit of an influencer partnership, you're gaining access to video footage that will ultimately help drive sales from your brand's pages.
Want to Get Social?
If you're looking to use influencer marketing in 2023, contact us to discuss how we can help you boost your brand's awareness and sales.